| | | |
| --- | --- | --- |
| | Advance the Plot! | |

Dear Julia:
I have a really cute male friend whom I adore because he is so incredibly sweet. He's always doing little things, like sending me flowers for no reason, or showing up to make me dinner, or calling just to see how my day was. Recently, I've started to think that maybe he's interested in more than just friendship. I would be open to something more, but part of me says he's just being a nice guy, and I don't want to ruin our relationship by making a fool of myself! What should I do?

Jill R.

Okay, let me get this straight. You've got a cute guy who is always doing little things for you like... I don't know... SENDING YOU FLOWERS or MAKING YOU DINNER. Hel-LO-oh! Hell yes he's interested in more - or he's just really, really gay! But let's assume he's straight. This is a guy who really knows how to charm a woman. No stupid pick-up lines, no improper lunging for body parts. He is charming you to the tips of your toes first, and oh God, I just love it when that happens!

Okay, okay, you want to advance this plot cautiously. So, you'll want to send a signal or two his way to let him know that a) you've noticed (no need to tell him how dense you were about it); and b) you are definitely interested.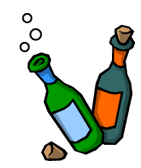 In the interests of protecting your pride, you shouldn't do anything terribly blatant at this point, but just a little something that get a reaction. Start with something that seems innocuous but is really pretty sensual. For example, when he pops over to make you dinner, have TWO nice bottles of wine waiting and wear that sexy little summer dress you can't wear to work and you can't wear to do housework, but that you bought because it would be perfect for some occasion while you are still in your twenties as long as you don't have to sit down. You understand what's needed here, so if you haven't been shopping since you cut up all your credit cards in that new year, new-you moment of madness, do something else. Just use your imagination - there are a million spicy little things you could do at this point in the plot.

Okay, once you've sent your signals, you've got to wait for him to respond. After all, he's the one who started it. You're looking for a "big moment," one that sort of defines where the two of you go from here. This is exactly what novelists call pacing. That moment of suspense where there is a heated argument or a heated kiss... in either circumstance, sexual tension so thick you'd need a chainsaw to get through it. It should be one of those moments that moves this thing off the dime, because if it doesn't, it is really, REALLY going to embarrass the hell out of you.



If by some miracle he doesn't respond, we'll need to reconsider that gay theory. Worse yet, if he tells you that he really likes you as a friend but not like THAT, take heart. Him: "Gee, I'm sorta involved with somebody else." You: "Ex-CUSE me? You think I'm interested in you? Puh-leez!" Then laugh like that is the stupidest thing you have ever heard in your whole entire life. Make sure he's good and red in the face before you stop guffawing.

But listen, that won't be necessary. If I know romance - and I do - this guy is going to be relieved and thrilled and will probably fall all over himself just showing you just how thrilled he is. And you will have the start of something wonderful. I just hope for your sake that it starts with more than macaroni and cheese . Good luck!




Back to Julia's Modern Romance



Julia's
Love Quote


"... love knows not 'mine' or 'thine';

With separate 'I' and 'thou' free love has done, -

For one is both and both are one in love;

Rich love knows nought of 'thine that is not mine';

Both have the strength and both the length thereof,

Both of us, of the love which makes us one."

Christina Rossetti
(1830 - 1894)
English Poet